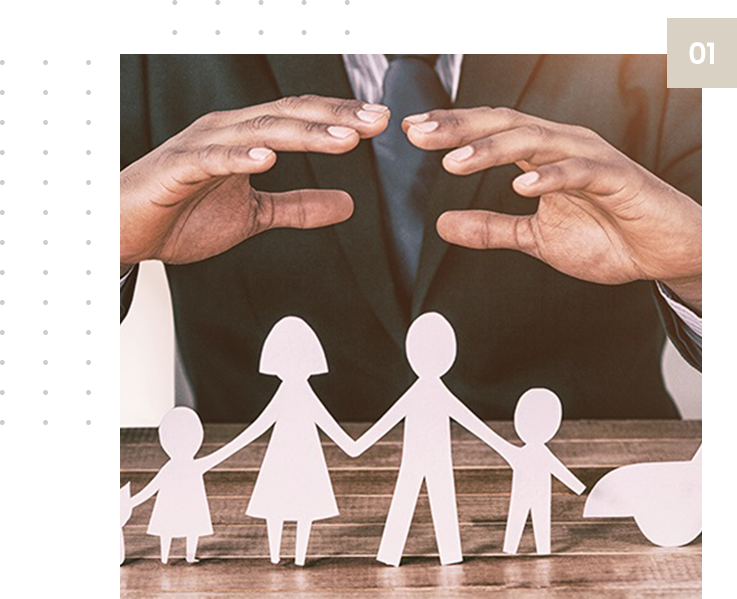 Insurance Services
You're working hard to build the life you've always wanted, but in the event of the unexpected, do you have the protection to ensure a happy future? Health, Auto, Home Owners, Commercial, or Marine, for many, getting insurance can seem like a daunting task, but it doesn't have to be. With Sheppard's Insurance Brokers Limited, making sure you have the right insurance coverage is easy. We work with you, hand in hand, to develop a unique plan specific to your individual needs. Whether you've just started a family or run a large corporate operation, you get what you need at the best prices every time—nothing more, nothing less. That is the Sheppard promise.
Insurance Services
Sheppard can help you manage your immediate insurance needs, and help you plan for the future.
Motor Insurance
Comprehensive, Third Party Fire and Theft, or just Third Party, we've got you covered.
Home Insurance
Don't be left out in the rain and out of pocket for repairs. Protect your assets from natural and man-made catastrophes, whether you own or rent a house, apartment, condo, or townhouse.
Health Insurance
Regardless of coverage by your employer's group plan, individual health insurance will help you reclaim your medical expenses. Age matters—insure today for a cheaper, healthier future.
Annuities
Planning ahead for a comfortable retirement should be easy. The key is to start early.
Life Insurance
No one likes the idea of leaving his or her family in debt. Eradicate that possibility and create an estate for your loved ones with the stroke of a pen.
Personal Accident/Travel Insurance
Tired of lost luggage woes? Tried skiing and fractured an ankle? Never be caught off guard again with Travel Insurance and Personal Accident coverage.
Marine Hull/Pleasure Craft Insurance
You're doing well financially and buy your first boat. When taking her out on the open ocean, the truth is, there is a sea of possibilities that can sink your dreams in a heartbeat. Protect your investment wisely.
Professional Indemnity
Looking to expand your career? Want corporations to take you seriously? Nothing says 'I am a professional' more than a robust policy to cover your trade. Build confidence in yourself and your business knowing that your every move is protected.
Sheppard is a fully certified General and Long Term Insurance Broker equipped with the knowledge and skills to service corporate clients from every type of industry.
At Sheppard, our corporate insurance services include:
Risk Assessment and Evaluation
Identifying risk exposures and evaluating the probability of loss and the potential of its occurrence.
Risk Surveys
Including site visits, interviews, and analysis reports.
Insurance Portfolio Analysis
Conducting a thorough examination of your current portfolio to determine if there is adequate coverage in place and making recommendations for improvement as needed.
Insurance Programme Contouring
Streamlining the coverage on your policies by utilising our preferred network of insurers to find the best pricing.
Provide an Efficient, Proactive, and Transparent Service
Our direct, hands-on approach means your account will get the attention it deserves at all times.
Ensure Your Privacy
At Sheppard, client confidentiality is of the utmost importance. Rest assured, your identity will never be divulged or used to advertise.
Help Achieve Your Objectives
Working together, we will provide the support you need, allowing you to meet any budget targets and tender deadlines.
Provide Competitive Rates
Our team is constantly on the search for the best offers available, locally and internationally.
Advocate for You in the Event of a Claim
From filing the paperwork to the settlement of the claim, leave it to us.
Always Be Available
We are here to help whenever you need us.
Our team has years of experience working with establishments of all sizes to implement, administer, and manage large group schemes. We can help develop added benefits for your employees' packages through the use of group plans for:
Motor
Homeowners
Health & Life
Personal Accident or Travel
Pension
Whatever the problem, we have the solution. Contact us today for a free risk analysis and quotation!
Too often, we hear, 'insurance is a rip-off,' or, 'insurance is a waste of money', which led us to wonder about the common misconception. We discovered that the problem stems from a lack of understanding of insurance services and how they can assist you in times of need. One of our key business features is ensuring that you are completely aware of your coverage—what's included, but, more importantly, what's not—providing you with all the information to help you make fully informed decisions.
'I have comprehensive insurance for my car, so I am covered for everything!'
To cut your costs, some insurers remove certain aspects of the cover and charge an additional premium to have coverage upgraded. Flood is one peril that is often left out of comprehensive cover, unless it is specifically purchased, and malicious damage is another. Ensure that if you have comprehensive coverage, your policy includes all perils of nature, accidental damage, fire, theft, windscreen/glass cover, and malicious damage.
'The driver has the same level of coverage as the passengers in a vehicle'
Passengers are treated as Third Parties and therefore fall under the parameters set out in the Third Party Liability section of the policy. A driver is only covered up to the benefits on the Personal Accident extension on the policy IF this extension is bought. Most often this coverage is overlooked thereby leaving the driver exposed and unable to claim for bodily injuries. The PAB (personal accident benefit) is usually very small, but in the time of need, every bit counts!
'I don't own the house; therefore I cannot get insurance for my belongings.'
Even if you are a tenant, you can obtain coverage for your furniture, appliances, and other personal belongings under a Homeowner's Insurance policy. You may even insure improvements made to the building, such as air conditioning units.
'My house is 30 years old; it's only worth about $300,000. I will insure for that amount so if anything happens, I will get back $300,000.'
There are two types of insurance policies—Indemnity and Replacement. Most Homeowner's policies are replacement cost policies; therefore, the accurate value to insure would be the cost to replace the existing structure at this present time. Most persons under-insure their homes and are penalised by insurance in the event of partial losses.
'I just found out I am pregnant. If I buy a health policy, I will get to claim for the maternity expenses.'
All health insurance policies have waiting periods that must be observed before a claim can be made. Maternity, vision, and dental coverage are the main features with significant waiting periods. Plan ahead—purchase health insurance before it is actually needed. You can then avoid exclusions on your policy for pre-existing conditions.
'If I am insured on two health plans and two life plans, I get paid twice for a claim!'
Don't be disappointed if each of your health insurance providers only pays 50% of your claim. This is called co-ordination of benefits, as health insurance is not meant for you to make a profit by claiming twice for the same ailment. On the other hand, each life insurance policy will pay 100% of the policy benefits to a beneficiary upon the death of the insured. There is no restriction on the allowed number of life insurance policies for any one person.
At Sheppard, we continuously conduct market research to ensure that the insurers we work with are up to our high standards of quality. We need to know that your policy is in safe hands and any claims made can be settled with ease.
Our preferred local and international insurers are highly rated by agencies, such as Standard & Poor's or A.M Best, whose sole purpose is to review the financial strength of these companies and their ability to meet all obligations to you.
For our client relationships to thrive, we must build strong foundations of integrity and trust. When you insure through Sheppard, you can rest easy knowing that you are insured with the best.
Interested in finding out more or becoming one of our preferred insurers?
Contact us today at webquotes@sheppard.tt