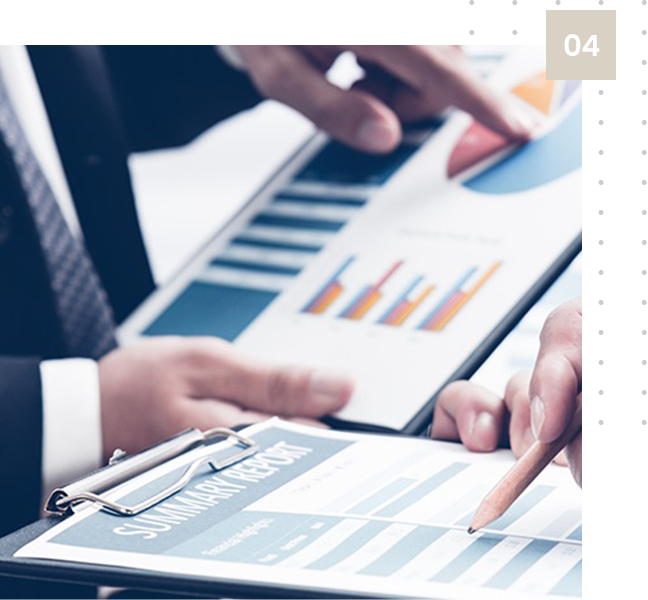 Investment Services
Don't let the angst of investing stop you from maximising your wealth and growth opportunities. At Sheppard we pride ourselves on ensuring that our clients always come first. We work to provide high-quality investments and excellent advisory services that are tailored to suit your financial needs. Whether your goals are large or small, in the distant future or closer to home, you can count on us to satisfy your needs and help you through the entire investment process.
Investment Services
At Sheppard, our team makes you the priority and ensures that your investment goals are always kept in sight.
You are unique and must be treated as such. There will never be anyone else just like you, and your financial advice should be no different.

You are the key to determining what is required to attain your goals. Insight into your financial needs and objectives will help our team build a portfolio with the highest probability of fulfilling your expectations.
You should be given the best possible opportunity to accomplish your objectives. Our success is graded not by performance figures, but by our clients' ability to achieve their targets.

In order to help achieve these objectives, you must be able to continuously assess your progress. By constantly reviewing your financial position, we are able to steer your portfolio and help you reach your desired outcome.
Our investment philosophy is based on minimising client risk while using strategic asset allocation and diversification to maximise returns. We aim to deliver solid returns over the medium- to long-term horizon.
At Sheppard, strategic asset allocation is the central tenet of our Investment Philosophy. By combining different asset classes, we achieve lower risk to return ratios than if investing in one type of security. In practice, this concept allows us to create all possible combinations of investments that give the highest returns for a specific level of risk.
Please note that, with any investment, there is always a measure of risk that investments may lose value and what is invested may not be returned.
Investing Creates Wealth
It's easier to become financially independent when your money is working for you. The higher the return you earn from investments, the less you have to rely on your working salary to support yourself and achieve your financial goals.
How Do I Start?
Anything that generates a return can be deemed an investment. This means even your bank account is an investment, although most people refer to investing as profitable accounts and investment vehicles. It is best to start small and work your way up. Exchange-traded funds allow you to invest in multiple stocks or bonds at the same time without having to put out a lot of capital.
The key is to start as soon as possible, so time will be on your side.
Interested in our Investment Services? Contact us to open an account!
With so much going on in your life, actively managing your own finances can be an overwhelming undertaking. For those looking for a less stressful approach to investing, our structured discretionary accounts are the perfect balance of control and convenience.
Low-Maintenance
This is a convenient, low-maintenance solution that allows you to invest and put your money to work while leaving the heavy lifting to us.
Risk-Managed
These accounts are tailored to your risk tolerance, ensuring that you do not take on more risk than you are comfortable with.
Set With Your Goals in Mind
Our investment advice and strategy recommendations are set in the context of your goals, allowing us to select a strategy with the best chance of achieving your desired outcome.
Frequently Rebalanced
Discretionary accounts typically contain a basket of securities, known as exchange-traded funds (ETFs), which are predetermined by our team. Each account is rebalanced quarterly, helping to remove the emotion out of buy and sell decisions and increasing the overall returns to your portfolio.
No Upfront Fees
These accounts are fee-based and are subject to quarterly management fees.
Leatherback
Designed specifically for more conservative investors who are seeking a relatively low-risk strategy and have a shorter investment horizon.
Tarpon
Designed for the balanced investors that are looking to strike a compromise between the long-term growth of their portfolio and current income.
Blue Marlin
These types of moderately aggressive strategies are mainly used by investors who have much longer time horizons and are willing to absorb a higher degree of risk within their portfolio to benefit from higher returns.
Click here to complete a short Risk Assessment to find out what type of portfolio is right for you!
Let us help you build, protect, and prepare for your future with our expert wealth management guidance.
Full Control of Accounts
These accounts are for investors who wish to have more control over the management and growth of their portfolio. Non-discretionary accounts allow you to have full authority over all decision-making aspects of your investments.
Expert Advice
With an in-depth understanding of the financial markets and the ever-changing environment, we will provide you with the tools necessary to keep your portfolio active and performing consistently.
Flexible Account Structure
Non-discretionary accounts have both a fee-based structure or a per transaction structure, whichever is more convenient to you and your needs.
Personalised Advisory Services
We will advise you and make recommendations based on your circumstances and needs, but you will ultimately have the final say in what you want for your investments. We will be here to support and guide you through your entire wealth journey.
Global Reach
With access to over 65 exchanges in 60 countries, we are able to help you reach your dreams and goals wherever in the world they may be.
Regular Portfolio Reviews
A periodic review of your portfolio increases the ability to help you reach these targets and stay on track, both long term and short term.
Consistent Market Updates
We aim to keep you updated on the latest trends, themes, and opportunities in the markets as they arise. Sheppard ensures that all investment decisions are geared towards your specific portfolio.
Click here to complete a short Risk Assessment to find out what type of portfolio is right for you!